Kadcyla (Ado-trastuzumab emtansine) medicine
Home
Kadcyla (Ado-trastuzumab emtansine) medicine
Medical Evidence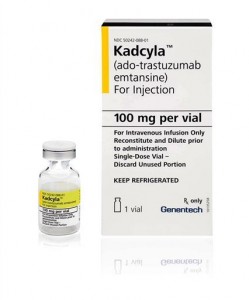 Generic name : Ado-trastuzumab emtansine.
Trade name : Kadcyla.
Manufacturer information :
Kadcyla is manufactured by Genentech, Inc.
Kadcyla FDA Approval :
Kadcyla first approved February 22nd, 2013.
Kadcyla Dosage form :
Lyophilized powder in single-use vials containing 100 mg per vial or 160 mg
per vial.
Kadcyla Indications and Usage :
Metastatic Breast Cancer
Indicated as a single agent for treatment of HER2-positive, metastatic breast cancer in patients who previously received trastuzumab and a taxane, separately or in combination.
Kadcyla (Ado-trastuzumab emtansine) availability in India
You could import this medicine against import permit on Patient Name.
Please contact ACT Lifesciences Private Limited for further information.