Opdivo (Nivolumab) Dosage
Home
Opdivo (Nivolumab) Dosage
Medical Evidence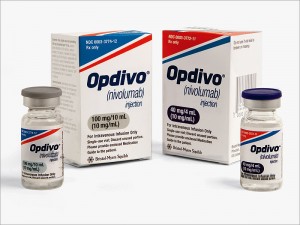 Generic name : Nivolumab.
Trade name : Opdivo.
Manufacturer information :
Opdivo is manufactured by Bristol-Myers Squibb.
Opdivo FDA Approval :
Opdivo first approved December 22nd, 2014.
Opdivo Dosage form :
Injection: 40 mg/4 mL and 100 mg/10 mL solution in a single-use vial.
Opdivo Indications and Usage :
Melanoma
Indicated for unresectable or metastatic melanoma and disease progression following ipilimumab treatment and, if BRAF V600 mutation positive, a BRAF inhibitor.
Non-Small Cell Lung Cancer
Indicated for metastatic squamous non-small cell lung cancer (NSCLC) with progression on or after platinum-based chemotherapy.
Opdivo (Nivolumab) availability in India
You could import this medicine against import permit on Patient Name.
Please contact ACT Lifesciences Private Limited for further information.