Blincyto (Blinatumomab) Medicine
Home
Blincyto (Blinatumomab) Medicine
Medical Evidence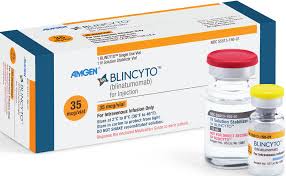 Generic name : Blinatumomab.
Trade name : Blincyto.
Manufacturer information :
Blincyto is manufactured by Amgen Inc.
Blincyto FDA Approval:
Blincyto first approved December 3rd, 2014.
Dosage form :
For injection: 35 mcg of lyophilized powder in a single-use vial for reconstitution.
Blincyto Indications and Usage :
Acute Lymphoblastic Leukemia
Indicated for Philadelphia chromosome-negative relapsed or refractory B cell precursor acute lymphoblastic leukemia (ALL).
Blincyto (Blinatumomab) availability in India
You could import this medicine against import permit on Patient Name.
Please contact ACT Lifesciences Private Limited for further information.