Zaltrap (ziv-aflibercept) Medicine
Home
Zaltrap (ziv-aflibercept) Medicine
Medical Evidence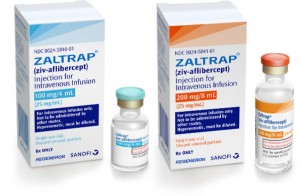 Generic name : Ziv-aflibercept.
Trade name : Zaltrap.
Manufacturer information :
Zaltrap is manufactured by Sanofi and Regeneron Pharmaceuticals, Inc.
Zaltrap FDA Approval :
Zaltrap first approved August 3rd, 2012.
Zaltrap Dosage form :
Colorectal cancer : 4 mg/kg IV.
Zaltrap Indications and Usage :
Colorectal Cancer
Indicated in combination with 5-fluorouracil, leucovorin, irinotecan (FOLFIRI) for metastatic colorectal cancer that is resistant to or has progressed after an oxaliplatin regimen.
Zaltrap (Ziv-aflibercept) availability in India
You could import this medicine against import permit on Patient Name.
Please contact ACT Lifesciences Private Limited for further information.