Inlyta (Axitinib) tablets
Home
Inlyta (Axitinib) tablets
Medical Evidence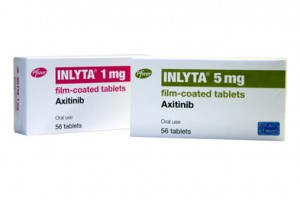 Generic name : Axitinib.
Trade name : Inlyta.
Manufacturer information :
Inlyta is manufactured by Pfizer Inc.
Inlyta FDA Approval :
Inlyta first approved January 27th, 2012.
Inlyta Dosage form :
1 mg and 5 mg tablets.
Inlyta Indications and Usage :
Renal Cell Carcinoma
Indicated for treatment of advanced renal cell carcinoma after failure of 1 prior systemic therapy.
Inlyta (Axitinib) availability in India
You could import this medicine against import permit on Patient Name.
Please contact ACT Lifesciences Private Limited for further information.