Zerbaxa ( Ceftolozane and Tazobactam) Injection
Home
Zerbaxa ( Ceftolozane and Tazobactam) Injection
Medical Evidence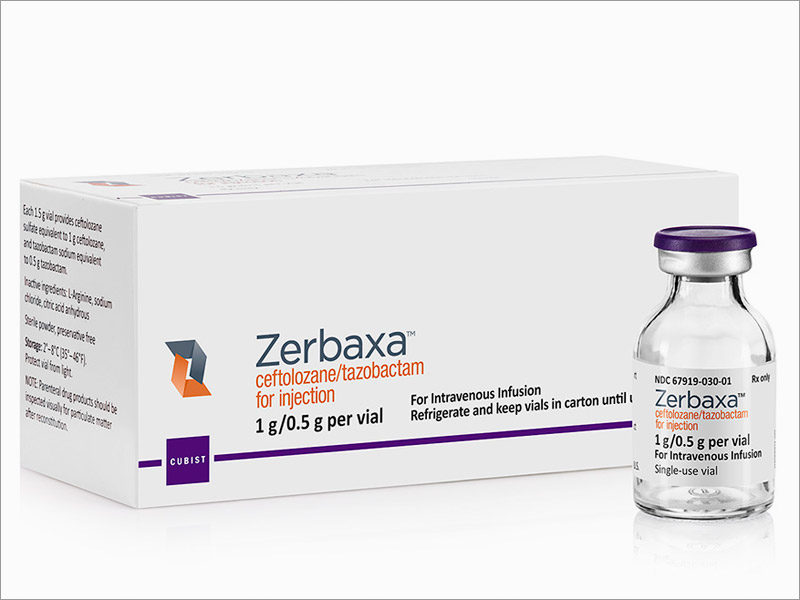 Generic name : Ceftolozane and tazobactam.
Trade name : Zerbaxa.
Manufacturer information :
Zerbaxa is manufactured by Cubist Pharmaceuticals.
Zerbaxa FDA Approval :
Zerbaxa first approved December 19th, 2014.
Zerbaxa Dosage form :
ZERBAXA for Injection (ceftolozane/tazobactam) 1 g/0.5 g powder for
reconstitution in single-dose vials containing 1 g ceftolozane (equivalent to 1.147 g ceftolozane sulfate) and 0.5 g tazobactam (equivalent to 0.537 g tazobactam sodium).
Zerbaxa Indications and Usage :
Complicated Intra-abdominal Infections
Indicated for use in combination with metronidazole for complicated intra-abdominal infections cause by enterobacter cloacae, escherichia coli, klebsiella oxytoca, klebsiella pneumoniae, proteus mirabilis, pseudomonas aeruginosa, bacteroides fragilis, streptococcus anginosus, streptococcus constellatus, and streptococcus salivarius.
Complicated Urinary Tract Infections
Indicated for complicated urinary tract infections, including pyelonephritis, caused by escherichia coli, klebsiella pneumoniae, proteus mirabilis, and Pseudomonas aeruginosa.
Zerbaxa (Ceftolozane and tazobactam) availability in India
You could import this medicine against import permit on Patient Name.
Please contact ACT Lifesciences Private Limited for further information.