Entyvio ( Vedolizumab )
Home
Entyvio ( Vedolizumab )
Medical Evidence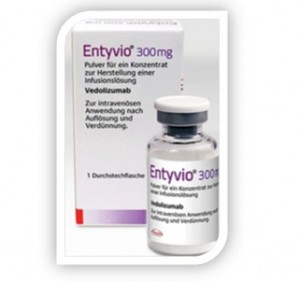 Generic name : Vedolizumab.
Trade name : Entyvio.
Manufacturer information :
Entyvio is manufactured by Takeda Pharmaceuticals U.S.A., Inc.
Entyvio FDA Approval :
Entyvio first approved May 20th, 2014.
Entyvio Dosage form :
For injection: 300 mg of lyophilized entyvio (vedolizumab) in a single-use 20 mLvial.
Entyvio Indications and Usage :
Ulcerative colitis and crohn disease :
Indicated for adults with moderate-to-severe active ulcerative colitis and crohn disease who have had an inadequate response with, lost response to, or were intolerant of a TNF blocker or immunomodulator; or had an inadequate response with, were intolerant to, or demonstrated dependence on corticosteroids.
Indication includes
Inducing and maintaining clinical response.
Inducing and maintaining clinical remission.
Improving the endoscopic appearance of the mucosa.
Achieving corticosteroid-free remission.
Entyvio (Vedolizumab) availability in India
You could import this medicine against import permit on Patient Name.
Please contact ACT Lifesciences Private Limited for further information.